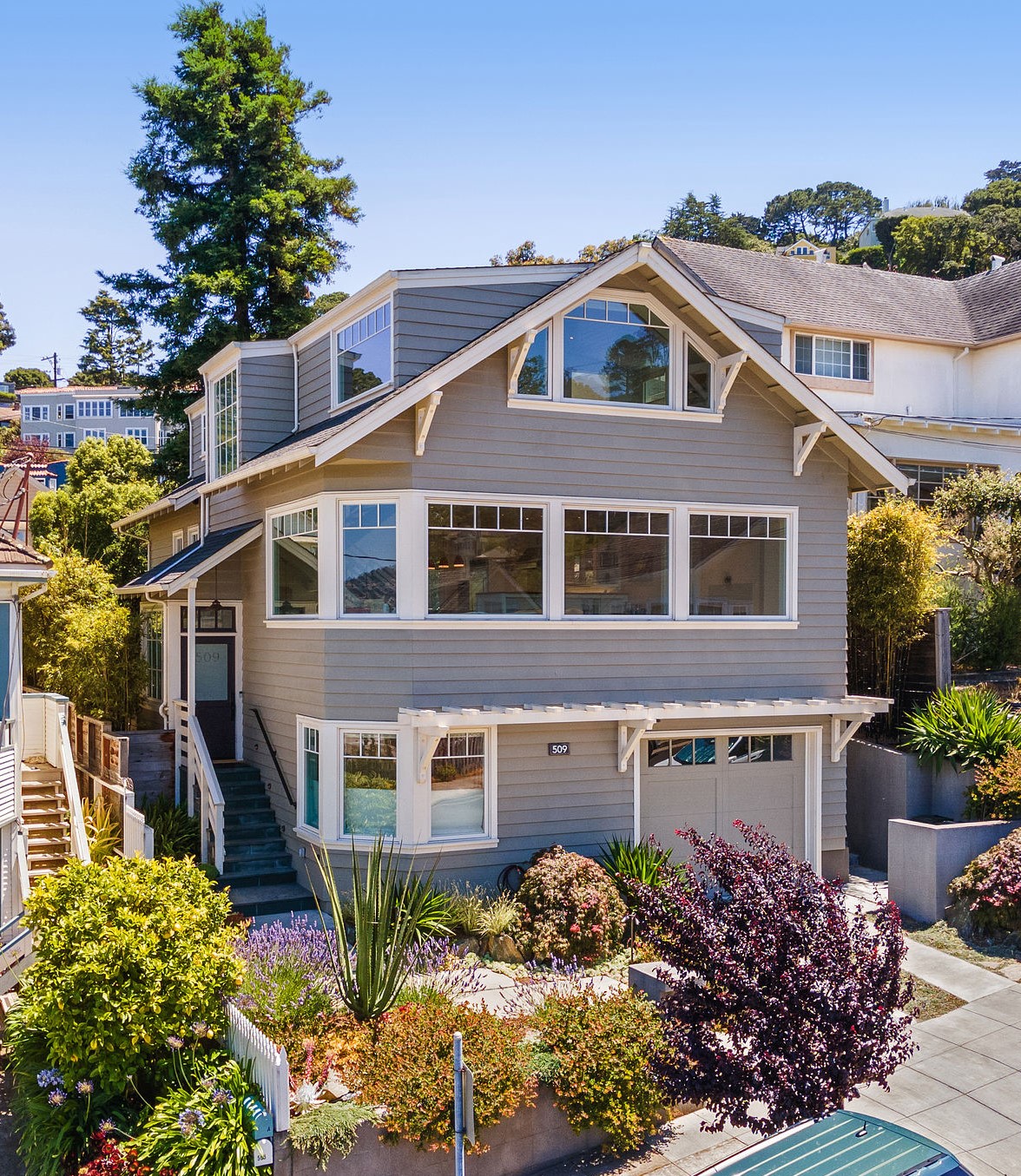 Have I got a great real estate story for you!
Long time friends/clients of mine called me a few weeks ago and said, "You aren't going to believe this, but we think we want to make an offer on a house in Healdsburg!". I was shocked, but agreed to meet with them to discuss next steps. Five years ago, they rebuilt their beloved home on Johnson Street, in Sausalito, with every bell and whistle… absolutely gorgeous, for their "forever" home. Some background. I had been trying to find a larger home that had similar ingredients (nice view,  close to downtown, wide streets) for years…They bought 509 Johnson as a pied de tier when they circumnavigated for 2 years back in 2007? to give them a pad to return to… When they returned it was too small….Then after 3 years of planning, permitting, building their dream home,  they wanted to move?
Well, long story short, they did list their home with me, with the caveat it needed to be a private sale (no MLS, no sign, no marketing) and use only my networking with other Top Realtors to find a buyer… FAST.  Their Offer on the Healdsburg house was accepted the next day and I got to work. I Listed their home on Monday, had Open Homes Photography there on Monday afternoon for photoshoot, floor plans and aerial photos, created website and got all Disclosures produced and uploaded by Friday; helped sellers with my team of movers, window washers, cleaners, get the house ready for showings – and Sellers left for vacation on Friday. First showings started Saturday, right after window washers left.  Everything was perfect.  It was a beautiful day, the hot tub was welcoming, the back deck and gardens bathed in sunlight, the home just sparkled. The very first potential buyer, represented by the amazing Chelsea Lindman of Compass, came in with his sister and niece, and VOILA! I knew he was the BUYER! After an hour-long visit, he asked if he could come back that evening to watch the sunset… I said "sure" (cuz that's what you do when the client needs it sold quickly, no matter how exhausted you are…).  Of course sunset wasn't until 8:35 p.m. that evening… right?  We agreed to meet at 8:15 p.m. to watch the sunset, which my clients said is the "Magic Hour"…. At 8:20 sharp, with help from my client (who remotely turned on Sinatra  on all of the recessed surround sound speakers and offered access to their extensive wine collection), we had the mood set.   We definitely cinched the deal that evening… Between the amazing sunset, the fine wine, the great music and camaraderie, we had the BEST evening!
On Sunday, I had 12 more showings, with several more very interested parties…. and many phone calls from Realtors that had buyers out of town, that weren't able to make the weekend showings… day evening we received a beautiful, non contingent, all cash, over asking offer, from guess who??  and then a 2nd offer for even MORE $$, but with contingencies….  It was meant to be… Buyer and Sellers couldn't be any more thrilled, and have become fast friends….
Congratulations to the new owner who is super fun, charismatic and a wonderful addition to Sausalito! Congratulations also to his amazing agent, Chelsea, who is about to deliver a baby girl on Sunday, the 8th! Chelsea you ROCK and I hope to work with you the moment you are back from maternity leave.   Finally, Congratulations to my great friends Russ and Fay on the purchase of a beautiful new home in Sonoma, and sale of their beloved home for the most $$ of any home on Johnson Street in history.  Congratulations also to Fay on the birth of her first grandchild this week, welcome to the world, baby Elizabeth!